Granular System Features
Very Low Profile
Height, including pigment super sack racks are less than 14 feet tall.
Up to Six Colors
Normally configured to draw from four pigments sources, IndusTec offers optional five and six color source configurations.
Multi-blend Operation
The operator can load up to four blend formulas for each mixer serviced by the E•Z Blend Granular Dispensing System.
Multiple Fill Rates
IndusTec's unique metering system combines fast fill rates with very accurate results. The bulk of the material is added in fast fill and as the fill target is approached the fill rate is reduced so that the last amount of pigment is added very precisely.
Control System
The dispenser control system incorporates an industrial rated PLC and touch screen display. The pre-mounted, pre-wired control panel is designed to stand up to even the harshest plant environments.
Touchscreen Display
All system functions and parameters are accessed by simply touching the NEMA 4 rated touchscreen display. This display is protected from pigment and screen wear by an easily replaceable screen shield. The touch screen display can be mounted remotely in an operator console.
Pressurized Discharge
The pressurized discharge enables the batching chamber to be rapidly emptied to mixers at distances of up to 150 linear feet and at a height of 30 feet.
Remote Signals
The dispenser accepts remote fill and discharge signals from a host machine and signals the host when fill and discharge cycles are complete.
Access Codes
Owner selectable access codes are available, if desired, to protect sensitive areas of dispenser functions.
Custom Hardware
IndusTec can customize your systems to suit a wide variety of unique needs such as high speed or high volume operations, or unusual installation configurations.
Inventory Control
System totals the weight of all pigments in automatic mode, as well as the amount remaining in the source super sacks. The system will alert the operator when pigment available drops below an operator-set minimum. These total weights can be viewed, printed, or reset as desired.
Custom Programming
Custom programming is available to provide special features to meet the needs of particular applications.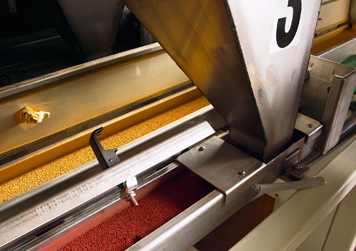 The hinged lids of our E•Z Blend vibratory feeders allow them to be easily opened for inspection.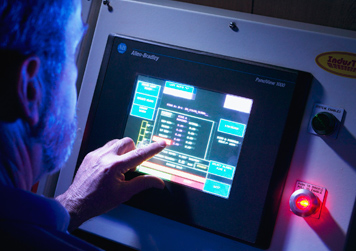 The NEMA 4 Rated Touchscreen Display