Liquid System Features
Touchscreen Display
All system functions and parameters are accessed by simply touching the NEMA 4 rated touch screen.
Control System
The dispenser control system incorporates an industrial rated PLC and touchscreen display. The control panel is designed to stand up to harsh plant environments.
Access Control
Owner selectable access codes are available to protect sensitive areas of dispenser functions.
Multiple Fill Rates
IndusTec's unique control system facilitates a rapid cycle time while maintaining very accurate results.
Remote Signals
The dispenser accepts remote fill and discharge signals from a host machine and signals the host when fill and discharge cycles are complete.
Multi-blend Operation
The operator can load up to four blend formulas for each mixer serviced.
Inventory Control
The system trackers pigment use and will alert operator when pigment available drops below an operator-set minimum. These total weights can be viewed, printed, or reset as desired.
Up to Six Colors
Normally configured to draw from four pigment source with optional 5 or 6 source configurations available.
Flexibility
System may be customized for applications with unique requirements.
Options
The E•Z Blend Slurry Dispensing System is further customizable through various options, including:
Optional holding chambers to service multiple high sped mixers.
Optional diverter valve to service multiple mixers.
Custom Hardware and Programming
IndusTec can customize your system to suit a wide variety of special situations, such as unique batch timing requirements, high speed or high volume operations, or unusual installation configurations.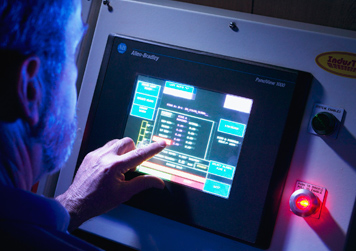 The NEMA 4 rated touch screen.